In this article we explain you how to create and manage tickets within HubSpot.
Create a new ticket from the tickets index page
In your HubSpot account, navigate to Service > Tickets.
In the upper right, click Create ticket.
In the right panel, enter your ticket details. If you want to customize which properties appear here, click customize the properties at the bottom. The following fields are required by default:


Ticket name: provide a description for this ticket.
Pipeline: assign this ticket to a specific ticket pipeline you've created.
Ticket status: choose a specific ticket stage from the pipeline you've selected.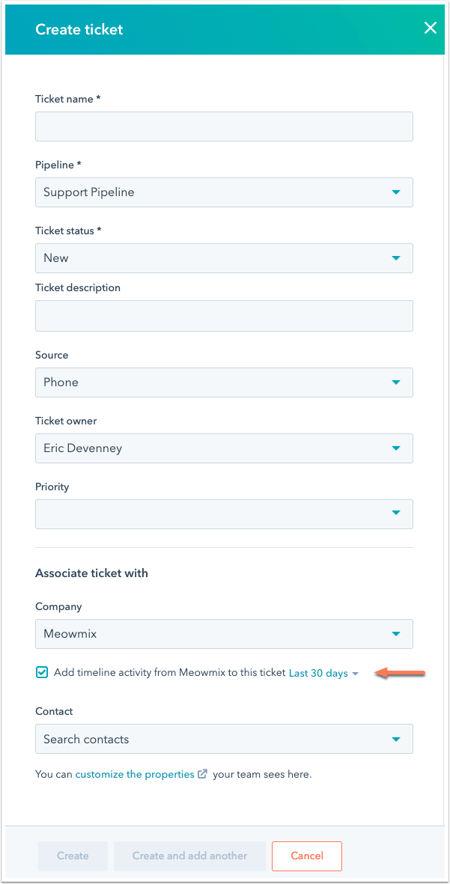 Create a ticket from a record
To create a ticket from a record you want associated with the ticket:
In the right panel of the record, in the Tickets section, click + Add.

The new ticket will be associated with the record. Learn more about the activities that will be associated to these different records.
Create tickets in your conversations inbox
You can create tickets in your conversations inbox from the following channels:
To view which of your email and form channels are connected to ticket pipelines:
In your HubSpot account, click the settings settings icon in the main navigation bar.

In the left sidebar menu, navigate to Inbox > Inboxes.
In the Connected Channels section, any connected ticket pipelines will appear in the corresponding channel's Connected to column. Click the name of the pipeline to edit the pipeline settings.